Tube strike driver Arwyn Thomas unfairly dismissed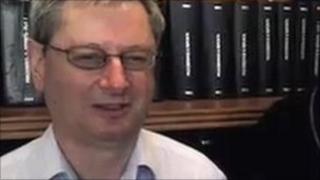 A driver at the centre of a series of strikes was unfairly sacked by London Underground (LU), a tribunal has ruled.
LU said Arwyn Thomas was dismissed for unacceptable behaviour towards other staff but the RMT said he was punished for his role with the union.
The tribunal found Mr Thomas was partly to blame for his sacking but said options other than dismissal should have been explored to discipline him.
It is unclear if three more strikes, all due next week, will now go ahead.
Further talks between the two sides are expected on Thursday.
Following the ruling, the RMT called for Mr Thomas to be reinstated.
"Throughout this process LU have said that they would abide by the tribunal ruling," said Bob Crow, the union's general secretary.
"All that we are now asking them to do is stick to their word and get Arwyn back to work.
"I am seeking an urgent meeting with the managing director to make the necessary arrangements."
'Suspend action'
But Mike Brown, the managing director of LU, said the tribunal had not called for Mr Thomas to be reinstated.
"The employment tribunal has ruled today that Mr Thomas should have been disciplined for his actions and that his dismissal was in no way due to his activities as a union member."
He urged the RMT to "acknowledge that their claims of union victimisation were false and to suspend their threatened strike action".
LU would consider "in detail" the finding that the punishment against Mr Thomas was too severe, Mr Brown added.
A series of walkouts has been staged this year, the most recent last Sunday.
A further 15-hour strike is due from Monday evening to Tuesday lunchtime.
A separate 24-hour walkout is scheduled to begin next Wednesday lunchtime and nine hours of action is proposed on the following Friday afternoon.