Transport for London pays 379 staff more than £100,000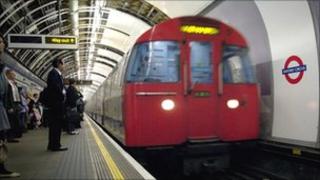 Transport for London (TfL) has said it paid 379 people more than £100,000 in the past financial year.
TfL said this included 196 of its staff, 68 from maintenance firm Tube Lines and 31 Crossrail employees and 84 people who received severance pay.
It said 251 staff were paid more than £100,000 in 2009 and the increase since then was due to the inclusion of Tube Lines staff and severance pay.
RMT leader Bob Crow said workers would not take "lectures on pay restraint".
The pay for senior executives were listed in TfL's Annual Report and Statement of Accounts which also said the organisation was trying to achieve a £7.6bn saving, £4.6bn of which is expected to be achieved by 2017/18.
'Awash with cash'
A TfL spokesman said the salaries of Peter Hendy, the commissioner of transport, who earned £330,000, and managing director Mike Brown, who received £283,000, had remained "frozen" for two years.
Both men had also declined their performance awards, he added. Over the next few years 13 director-level posts would be cut, TfL said.
Mr Crow said: "We will take no lectures on pay restraint and job cuts while the top layers of TfL are so clearly awash with cash.
"It is RMT members who are out there day in and day out delivering the success for the company and we expect them to have both the resources and the rewards that they deserve for transporting growing number of people around this City as the clock ticks down towards the London Olympics."