Charity's coin record attempt in Chiswick ends short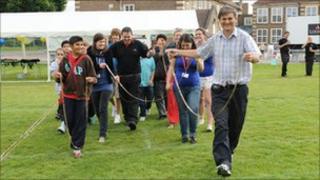 A west London charity has failed to beat the world record for the longest line of coins ever laid.
Chiswick-based Pennies for Life had collected four million pennies in attempt to lay more than 40 miles.
Volunteers laid seven and a half miles before ending the attempt. However the charity is hoping it has set a UK record for pennies.
The £40,000 worth of pennies collected will be used to fund small loans for women in Malawi to start businesses.
The coins were donated by local companies and individuals.
About £5,000 worth were laid out in lines at Chiswick Community School before time ran out.
The charity's head of fundraising, Michael McGrath, said the record attempt had ended in "glorious failure".
"It has been an amazing effort from everyone involved," he said.
Volunteers assembled the lines on a table, placing the pennies on strips of sticky tape before laying them on the ground.
Celebrity volunteers included broadcasters Gabby Logan and Ray Stubbs and actress Niamh Cusack.
The world coin record, set in Kansas, US, in 2008, involved more volunteers and took place over a longer period, said Mr McGrath.
Funds built up
The money raised will be donated to the charity's MicroLoan Foundation in order to help women in poor rural communities start businesses.
Since its establishment in 2002, the charity's funds have helped to finance businesses selling tomatoes, washing powder, knitwear and farming pigs.
The charity also funds mentoring and training for women and essential infrastructure including solar panels that generate electricity for communities.
Pennies for Life's founder and chief executive, Peter Ryan, said the charity started by raising money from donations as small as 50p and has built up its funds over time.
The charity's loans are now on average £50 each, totalling £60,000 per year.