Trevor Dinnal jailed for killing neighbour in Edmonton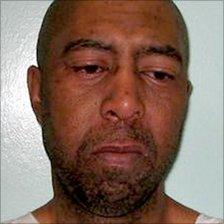 A man has been jailed for life at the Old Bailey for stabbing his friend to death in north London in front of horrified neighbours.
Trevor Dinnal marched Malcolm Boxall, 43, into the front garden of his own home while holding a knife to his throat, then stabbed him in the face.
The two men lived opposite each other in Dysons Road, Edmonton, and had been friends as well as neighbours.
Dinnal, 43, must serve at least 20 years in jail.
He was convicted of the killing, carried out on 26 July 2010, after a trial.
Zoe Johnson, prosecuting, said the knife had gone into the victim's neck and severed an artery.
"He effectively bled to death. This was an unprovoked attack on an utterly defenceless man," she said.
"Something happened to make the defendant act in such a violent and callous way.
"The prosecution do not know what it was that turned a friend into a murderer."
A neighbour had heard Dinnal tell the dying man: "You talk too much."
Judge Giles Forrester told Dinnal: "You were in a terrible drunken rage.
"He died frightened and alone. It was shocking and disturbing for members of the public who observed the events.
"What caused you to do this to your former friend still remains, in my mind, something of a mystery."
In a statement, Brian Boxall said that his brother had been popular in the area and had enjoyed caring for birds.
"No-one can really understand why he was taken from us so violently and without reason," he said.
Another brother, Dennis, said of Dinnal: "Justice has been done. He deserves what he got."
Related Internet Links
The BBC is not responsible for the content of external sites.