London Underground raises Tube staff pay offer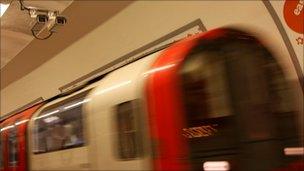 London Underground (LU) has increased its pay offer for workers to a 4.75% rise this year, which compares with 4.5% in its last offer.
The five-year deal would see workers receiving pay rises of inflation plus 0.25% for each of the subsequent years.
LU said the offer, which would run through next year's Olympic Games was "very fair and affordable".
Union sources said the latest offer would be considered before any response was given.
LU also gave a further guarantee that should deflation occur, staff would be guaranteed a minimum 0.25% pay increase each year.
It said it had also sought to meet some of the unions' suggestions by making the system for allocating shifts on Bank Holidays more responsive to local need and by making it easier for qualified drivers on career breaks to return to work.
LU's chief operating officer Howard Collins said: "We met with the unions today and have made what we believe is a very fair and affordable multi-year pay offer to the trade unions that will enable our employees' salaries to keep pace with the cost of living and guarantees an increase in real terms over the life of the deal.
"At the same time it is realistic given the current economic situation and the pressure on Transport for London's finances."
Related Internet Links
The BBC is not responsible for the content of external sites.