Italia Conti stars look back as stage school marks centenary
By Will Cantopher
BBC News, London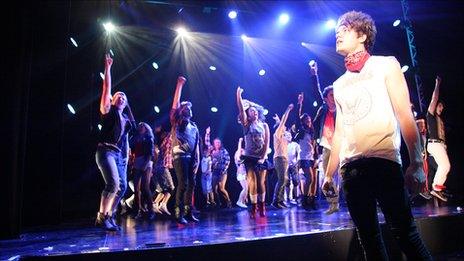 Linzi Hateley was only 14 when she upped sticks and moved from Birmingham to London's Barbican to enrol at Britain's oldest stage school.
The first thing she noticed there was a particular smell, a certain something in the air, which she recognises now as the elixir of "optimism and youth and what's about to happen".
This week the performer, fresh from a run in musical Mamma Mia!, has been back to school, to the Conti, as she affectionately calls it.
There, she joined students to rehearse a medley of show tunes and help underline an important date in the school calendar.
On Sunday, Italia Conti's centenary year will be marked by a gala night of song and dance at London's New Wimbledon Theatre.
The bill, made up of past and present students, reads like a Who's Who of West End musical theatre - Michael Howe, Tracie Bennett and Bonnie Langford will line up alongside Ms Hateley.
Singer Pixie Lott will be in the audience while Lee Bridgman, another recent graduate, will show off the skills that took him to the finals of TV show So You Think You Can Dance.
Film cameras are following the celebrations for a series about the school, which was founded in 1911 by actress Italia Conti in basement studios north of Oxford Street.
It grew out of children's play Where the Rainbow Ends, which was written in the same year.
Its young cast was prescient enough to request more training and be taken under the actress's wing.
Since then the Conti's aspiring young thespians have included Noel Coward, Jack Hawkins and Gertrude Lawrence, and more recently Doctor Who's Karen Gillan, Russell Brand and film and television actor Danny Mays.
"It was a fantastic environment to grow up in," recalls Pixie Lott.
The pop star joined the school before reaching her teens and stayed on for another seven years.
"It gave me the opportunity to develop my skills in acting, dancing and singing and I loved every minute of it," she says.
For Bonnie Langford, the Conti was a breath of fresh air.
"It was the first time I felt able to feel proud of my achievements. I felt normal there," she says.
The stalwart of shows such as Chicago, Cats and 42nd Street recalls an early school trip.
"Whereas in most schools, field trips would be to the local museum or zoo, we went to a matinee of A Chorus Line at the Theatre Royal, Drury Lane.
"How cool is that? Not only were we seeing people we aspired to become, it was pretty radical subject matter for us to chatter about on the journey home."
Today the school has academy status and boasts an arts centre in Guildford, Surrey, alongside premises at the Barbican and in Clapham, south London.
Its ethos has hardly changed over the years, says the Conti's principal, Anne Sheward.
"Part of our job is to nurture student talent but also to prepare them for the inevitable knock-backs.
"We have always advocated multi-skilled training so that our graduates are 'triple threat'. All have to act, sing and dance," she continues.
It proved a potent combination for the teenage Linzi Hateley. Upon graduating in 1988, she was catapulted to Broadway to play Carrie in the musical version of Stephen King's horror novel.
The production received a critical mauling and ran for just 21 performances.
"The school makes it clear just how difficult the business is," Ms Hateley observes.
People who have done well out of the Conti, she maintains, are the ones who have something different to offer.
"I had an interesting year when I was there. Among my fellow students was a girl called Naomi Campbell," she continues.
"I was short and from Birmingham and she was tall and striking. We all knew what she'd be doing."
Italia Conti - Celebrating 100 Years is at the New Wimbledon Theatre on Sunday 17 July 2011.
Related Internet Links
The BBC is not responsible for the content of external sites.