'Slow death' of west London if Tube service cut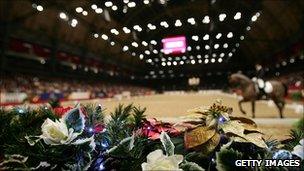 Ending weekday services to Kensington (Olympia) on the District line would be "disastrous" for West London's economy, according to event organisers.
A consultation by Transport for London (TfL) to withdraw the service ends on Friday.
TfL said more trains could be used on the Wimbledon branch line during peak times as a result.
Executives in the UK events sector have written to London Underground (LU) boss Mike Brown warning him of the impact.
TfL said 700,000 passengers used the District line every weekday but only one per cent used the Kensington (Olympia) branch.
The company hopes to introduce five more trains on the Wimbledon branch during the morning rush hour from December.
Austen Hawkins of the Association of the Event Organisers, said: "I have been absolutely bombarded by my members who are deeply concerned about the viability of their shows at Olympia if the District line closes.
"I call on Boris Johnson and TfL to see the huge economic importance of the events business to the West London economy and not to do anything that could threaten it. Otherwise this could be the start of the slow death of London Olympia."
Andy Center, CEO of CloserStill Media and signatory of the letter to Mike Brown at LU, said: "We know that closing the Tube link to Olympia will have a disastrous effect on our business, and will certainly make us consider whether to continue to use Olympia as a venue and also force us to reconsider where our business is based."
A TfL spokesperson said: "The weekday Olympia service is very lightly used. However, our proposal to withdraw that service would mean we could provide room for more than 4,000 extra passengers on the busiest branch of the District line, which is the Wimbledon branch during morning peak.
"Introducing a new timetable without the weekday Olympia service would also mean we could reduce delays across the remainder of the District Line. We would also plan to operate special services to serve major weekday events at the Olympia venue."
The spokesperson said if the Olympia branch did close, passengers would be well served by local buses, the Overground and Southern trains as well as other Tube stations a short walk away.
Related Internet Links
The BBC is not responsible for the content of external sites.