West End sales up in June with bumper summer predicted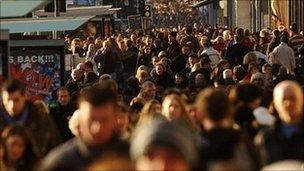 Retailers in London's West End have reported strong sales and are set for a profitable summer, the New West End Company (NWEC) has said.
The NWEC, which represents 600 retailers in central London, said sales were up 11% in June compared with the same month last year.
This bucks the national trend which saw a 0.6% drop in sales from a year ago.
The NWEC predicted 600,000 extra visitors to London in July, who would "keep tills ringing".
The organisation said people from the United Arab Emirates and Saudi Arabia would be coming to the area during the pre-Ramadan period, spending about £210m.
And figures from the Association of Train Operating Companies showed about 8.5 million people travelled into London in last two weeks of July 2010.
NWEC said this number was set to increase this year with five weekends in the month.
Jace Tyrrell, from the NWEC, said: "The summer months are incredibly important for West End retail as shopper spending reaches a mid-year peak around holiday season - as seen by the soaring sales figures in June.
"With 600,000 extra visitors set to come into the West End in July, strong summer sales are set to keep tills ringing."
Related Internet Links
The BBC is not responsible for the content of external sites.