Bollinger champagne conman sought by London police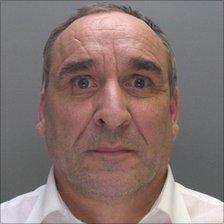 A man is believed to have conned more than £11,000 from offices in London by offering cut-price champagne.
Police are seeking John Clugston, 64, from Southwick, Sussex, who they have nicknamed "Champagne Charlie".
The "friendly" conman tells firms that he is from a nearby office and has bottles of Bollinger left over from a party he will sell for a low price.
Several firms in seven boroughs and the City of London are believed to have fallen for the con, police said.
He fails to return with the promised bottles after taking the agreed price for the champagne in cash, which is up to £1,500.
Champagne Charlie is believed to have committed offences across in Kingston, Southwark, Westminster, Lambeth, Camden, Hackney, Hammersmith & Fulham and the City of London.
Det Cons Anna Petherbridge said: "He is friendly and engaging in his manner and gives his victims little cause for concern. However, he is slowly conning a lot of people out of a lot of money and we need the public's help to track him down."
The conman, who is believed to have connections in Brighton, has the name "Sharon" tattooed on his right forearm.
Related Internet Links
The BBC is not responsible for the content of external sites.