Fortnum and Mason protest charges dropped by CPS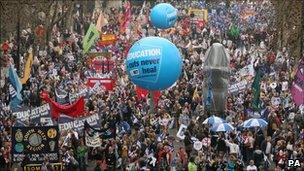 Charges of aggravated trespass against 109 people accused of storming Fortnum and Mason have been dropped.
A sit-in organised by campaign group UK Uncut was held at the luxury food store on Piccadilly, central London, in March in protest over alleged tax avoidance by the business's part-owners.
The Crown Prosecution Service (CPS) has decided the prosecutions are not necessarily in the public interest.
But it is continuing to pursue cases against 30 others who were charged.
UK Uncut said about 200 of its supporters forced themselves into the shop on 26 March.
Police arrested 145 people and 139 of those were charged.
Alison Saunders, chief crown prosecutor of CPS London, said: "I have decided that the cases against 109 individuals who were charged after protesting in Fortnum and Mason on 26 March should be discontinued.
"However, we will continue to pursue the other 30 cases through the judicial process."
The chief prosecutor said there was sufficient evidence to provide a realistic prospect of conviction for the offence of aggravated trespass against all the defendants, but decided a prosecution was not necessarily in the public interest.
She said this was because the sit-in was a single incident, the defendants had not been involved in similar offences previously and that they played only a minor role in the offending behaviour.
She also said if the defendants had been convicted the court would be likely to impose only a nominal penalty.
In response to the decision, a Metropolitan Police spokesman said: "The public interest test is applied by the CPS with the benefit of a full investigation and cannot realistically be applied in any meaningful way at the time of arrest.
"Whilst we accept the decision to discontinue these cases is rightly a matter for the CPS, we would welcome broader debate on the issue of where the public interest lies in the context of disorder."
Charity worker, Daniel Garvin, 26, from Birmingham, said he was held for 22 hours after being arrested at Fortnum and Mason.
He said: "I'm relieved that the CPS finally sees sense that prosecuting those fighting unjust cuts with sit-ins is a complete waste of money and time."
He called for the charges against the remaining 30 to be dropped immediately.
Elsewhere in London that day a peaceful march by thousands of public sector workers ended in violent scenes when activists who hijacked the protest clashed with police.
Paint, fireworks and flares were thrown at buildings and windows were smashed at branches of HSBC, RBS, Santander and Topshop.
Related Internet Links
The BBC is not responsible for the content of external sites.