London bike thefts fall in task force's first year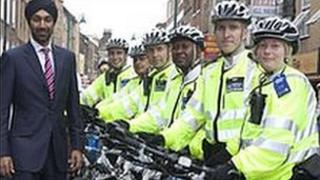 Cycle thefts across London have fallen in the first year of a task force set up to tackle the problem, figures show.
The 30-strong Metropolitan Police team, funded by the mayor, began operating in June 2010.
Between June 2010 and May 2011, 22,536 bikes were reported as stolen in London compared with 23,245 between June 2009 and May 2010, the police data shows.
The Cycle Task Force investigates the theft or vandalism of bikes and carries out high-visibility bike patrols.
In 2009 bike thefts across London rose sharply - from 17,777 the previous year to 23,176. This fell slightly to 21,952 in 2010.
Kulveer Ranger, the mayor's director for environment, said: "Our Cycle Task Force has made a real impact and I'm delighted with the progress they've made in tackling bike thefts and road safety so far.
"They are playing a key part in the cycle revolution the mayor is bringing to the capital and I believe their efforts will give even more Londoners the confidence to take to two wheels."
Intelligence gathering
In its first 12 months, the Cycle Task Force's (CTF) made 200 arrests, 175 of which were for theft-related offences, with 74% resulting in a "positive outcome".
Officers in the team gather intelligence on suspected cycle-theft related cases and advise cyclists on issues such as security, safety and how to protectively mark their bikes.
CTF Ch Insp Ian Vincent said: "Since the introduction of the Cycle Task Force London has seen a reduction in bike thefts and an increased awareness of cycle safety and security.
"However... we will continue to create an environment where all cyclists and potential cyclists feel safe and secure to enjoy cycling in the capital."
In September 10 traffic officers, who hold advanced driving and riding qualifications, became part of the CTF.
These officers focus on breaches of traffic regulations including cyclists who go through red lights and motorists who encroach past advanced stop lines reserved for cyclists.