Reynard Mills Estate: Windmill Road plan rejected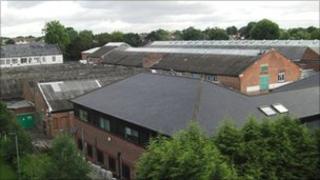 A developer has been asked to withdraw its plan to construct more than 300 homes in west London as the buildings would be too densely packed together.
Invista Real Estate wanted to revamp the Reynard Mills Industrial Estate at Windmill Road, Brentford.
Neighbours argued the blocks were not in keeping with the area and the extra residents would stretch local services.
Hounslow Council said the proposal showed "significant over-development" at the site.
Councillor Ruth Cadbury, the council's deputy leader, said: "We asked the applicant to withdraw their application as we could not recommend it for approval in its current state."
The project's spokesman said: "We have yet to hear back formally from the council, but will continue our discussions with them to bring this largely vacant site back into use."
'New homes needed'
The proposal for the site, which used to hold the BBC's archives, included four blocks of flats between three and seven storeys high, as well as town houses.
The developer said it would deliver much-needed new homes, including affordable housing, and reinforce the residential nature of that part of west London.
But Antoinette McGovern, who established the Windmill Road Action Group to oppose the development, said there had been widespread concern among local residents.
"It shows what can be achieved when people care enough to act," she added.
"Thanks to everyone who wrote letters, sent emails, put up posters and lobbied councillors.
"It's a fantastic example of the community coming together to make things happen."