Lloyd Scott to retire after London Marathon diving suit repeat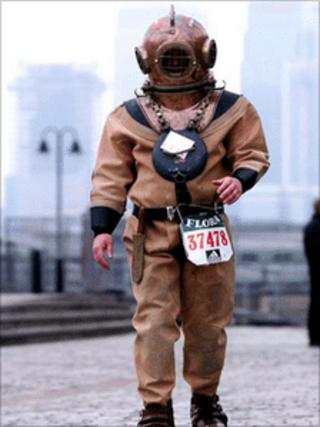 "It's not the years, it's the mileage," says Lloyd Scott, paraphrasing his hero Indiana Jones.
The extreme fundraiser completed the London Marathon dressed as the intrepid archaeologist, dragging a 300lb (140kg) boulder in 2007.
But the challenge the 49-year-old is most famous for is walking the course wearing a deep sea diving suit in 2002.
Ten years on, the former footballer plans to repeat the feat for a second time, at next year's marathon, before retiring from the event.
And he is offering his services for the last time to whichever charity he thinks he will be able to raise the most money for.
"Everybody remembers the diving suit," he said.
'Tremendous support'
"And it was great for me, as it happened 12 miles from my front door," added the man who crawled around the course this year as Brian the Snail from the Magic Roundabout for the Action For Kids charity.
It took him 26 gruelling days to complete the course.
The charity terminated his contract as director of fundraising less than two weeks after claiming that he did not raise enough money for them.
"Even though I felt my dismissal was unjust and should have been handled far better, I managed the intense pressure it placed on me and my reputation with a great deal of dignity and integrity," he said.
"I had tremendous support and sympathy from the public but I have a proven track record and I certainly don't want to finish on that note," added the father of three, who was born in east London and now lives in Essex.
Explaining how the miles have taken their toll, he said: "Soon I will be 50 - 10 years older than when I did the marathon in a diving suit the first time.
"I have two replacement hips, had over 20 operations and have to go into hospital shortly for a knee replacement, so my fundraising ventures have come at a cost.
"But I want to go out with a bang and raise a considerable sum for whoever it will be."
By wearing the 130lb (59kg) deep sea diving suit again, he hopes to "bow out raising loads of money and putting smiles on lots of faces".
Mr Scott is no stranger to the marathon, having also completed it as St George, dragging a 300lb (140kg) dragon, and as one of The Beatles carrying a Yellow Submarine.
And his fundraising has not stopped there. Having raised more than £5m for charities, his feats include an underwater marathon in Loch Ness and cycling a penny farthing across Australia.
'Ultimate challenge'
"Cycling the penny farthing was the hardest challenge I've done, while the underwater marathon was possibly the most ludicrous," he said.
Explaining his motivation, the man who played football for Blackpool, Watford and Leyton Orient, said: "I was diagnosed with leukaemia 25 years ago."
"People need to know there is hope in fighting personal battles in all walks of life," he added.
A bone marrow transplant from a suitable donor helped the former fireman fight off the cancer.
"Charities have helped me in the past. I do these challenges to give something back," he said.
Mr Scott received an MBE in 2005 for his services to charity, which he joked should stand for "mad, bonkers and eccentric".
Following London's marathon, he said he would like to write a book and use his profile to encourage other people to do similar things.
"I really would like to expand my motivational speaking," he said.
"I have a story that is quite unique and would be of great interest and benefit to a wide range of people and organisations."
But he be will not be hanging up his helmet straight away.
He has his sights set high for one final task - climbing the stairs to the top of the world's tallest building, the Burj Khalifa, in Dubai... in the diving suit.
"It will be the ultimate challenge," he said.