Murdoch foam pie attacker Jonnie Marbles' jail term cut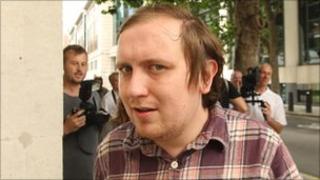 A man jailed for six weeks for throwing shaving foam at News Corporation chairman Rupert Murdoch has had his sentence reduced to four weeks.
Jonathan May-Bowles pleaded guilty to attacking the media tycoon on 19 July at a Commons hearing on phone hacking.
Judge Anthony Pitts said the district judge who sentenced the 26-year-old on Tuesday had not given enough credit for May-Bowles' guilty plea.
His sentence was reduced during an appeal at Southwark Crown Court.
But the defendant, who calls himself Jonnie Marbles, failed to convince the judge he should not have been jailed.
May-Bowles, of Edinburgh Gardens, Windsor, Berkshire, had pleaded guilty at City of Westminster Magistrates' Court to assault and causing harassment, alarm or distress.
'No comedy'
The judge told May-Bowles: "Your counsel has sought to persuade us that this was something of a slapstick event, a custard pie throwing.
"He said custard pies, or shaving foam, have been used in all sorts of comedy situations, which is correct.
"That might be funny or have an element of comedy about it in a different situation, but not in this situation.
"It was intended, it seems to us, to cause fear and it must have caused fear.
"In our judgement, there is an overwhelming inference it caused fear and shock amongst Mr Murdoch, his wife and his son, let alone others in the room who were crying out in shock and disbelief."
The judge added: "It is impossible to imagine that he did this without knowing that it would attract huge, probably worldwide, publicity, his assault on Mr Murdoch."
Defending the part-time comic, Piers Marquis said his client was not charged with assault at first as the foam plate was "lobbed" at Mr Murdoch and described it as a "protest by prank".
"They have been comedy for generations precisely because they are harmless.
"From Laurel and Hardy and the Three Stooges to Monty Python, all have used this methodology."
As he left the court May-Bowles put his thumb up to around 10 supporters in the public gallery.
'Make a statement'
Mr Murdoch and his son James were giving evidence before MPs at the Commons Culture, Media and Sport Select Committee when May-Bowles rushed forward from the public gallery and threw a paper plate of foam, which hit Mr Murdoch's skin and clothes.
The 80-year-old's wife, Wendi Deng, jumped up and appeared to slap May-Bowles on the head as several people tackled him.
District judge Daphne Wickham had criticised the comic's actions in interrupting the evidence Mr Murdoch was giving to the committee, which she said was "of huge importance" to many people.
"This is a parliamentary process, which as you know conducts itself with dignity and in a civilised fashion," she said.
Defence solicitor Tim Greaves said May-Bowles was trying to "make a statement" and had described the initial jail term as "excessive".
However, bail was refused and he was ordered to pay a £15 victim surcharge and £250 costs.