London firms say riots have damaged capital's reputation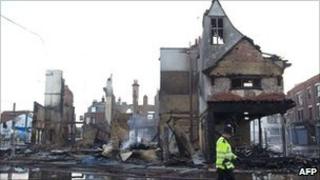 More than 80% of London businesses believe the riots have damaged the capital's reputation as a place to do business, according to a poll.
A further 73% of firms said the riots have highlighted the potential threat of civil disorder at the Olympic Games.
The poll was conducted by ComRes on behalf of the London Chamber of Commerce and Industry (LCCI).
A Twitter campaign has been launched to help shopkeepers affected by the riots rebuild their lives and businesses.
The poll also found more than a quarter of businesses (27%) were considering closing early in order to protect their premises and staff from the riots, and a similar amount (26%) have increased security at their business premises.
'Immediate impact'
Regarding the police, 91% agreed that the police should be allowed to use greater force to stop the rioters.
Colin Stanbridge, chief executive of LCCI, said: "These figures also show that businesses have struggled to cope with the immediate impact of the riots.
"At a time when the capital's businesses should be focusing on growth and job creation, the riots have prevented them from going about their day-to-day business."
The Twitter campaign #highstheroes has been launched by retail industry charity Retail Trust to raise funds for retail staff and shopkeepers affected by the riots.
The riots which began in London on Saturday spread to cities including Manchester, Salford, Liverpool, Nottingham and Birmingham, with shops being looted and set alight, on Tuesday night.