Feast for the eyes on the daily Tube commute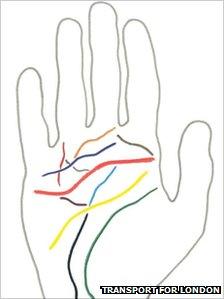 The latest addition to the Art on the Underground scheme by artist Michael Landy has been unveiled.
It will be the new cover of the pocket Tube map.
Perhaps, a bit of art is sometimes needed amongst the cut and thrust of the daily commute.
Or, as the poet James Oppenheim wrote:
Our lives shall not be sweated from birth until life closes;
Hearts starve as well as bodies; give us bread, but give us roses!
For the more utilitarian amongst you, I have asked about the costs. For this year the whole project is £400,000.
Transport for London (TfL) said: "Art on the Underground seeks to enrich the journeys of over 3.5m customers each day with world class art projects.
"In the year 2011/2012 the cost of planning, developing and implementing around 10 to 15 projects with a huge audience is expected to be around £400,000 (supplemented by grants from the Arts Council). We continue to seek additional sponsorship."
Related Internet Links
The BBC is not responsible for the content of external sites.