Brian Paddick beats Lembit Opik in Lib Dem London mayor vote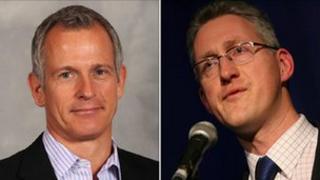 Brian Paddick has beaten former MP Lembit Opik in the vote to be the Liberal Democrats' candidate in next year's London mayoral election.
Four people stood for the party's nomination with Mr Opik finishing last.
Mr Opik said: "I think like every great politician you have to have some wilderness years. Nelson Mandela had them. Many other people had them."
Former Metropolitan Police officer Mr Paddick came third in the last mayoral election in 2008.
Following his success in securing the Lib Dem nomination for a second time, Mr Paddick said his priority "is to improve the image and standing of the party in the eyes of the public".
'Phone hacking'
He also pledged to support the Liberal Democrats' team of 2012 London Assembly candidates in what he predicted would be a "tough" contest for the party.
"I promise to devote myself full-time between now and May to securing the best possible result for the Liberal Democrats," he said.
Party leader and Deputy Prime Minister Nick Clegg said: "Brian's experience is exactly what London needs right now.
"Whether dealing with the aftermath of the riots or phone hacking and corruption in the Metropolitan Police, Brian has shown in recent weeks that he has the authority and leadership that London needs."
Mr Paddick was elected by a narrow margin, with 1,526 votes to London Assembly member Mike Tuffrey's 1,476 in the second and final round.
Former Haringey councillor Brian Haley also appeared on the final shortlist.
Mr Opik came last in the contest, securing 252 votes in the first round.
Nominations for the Lib Dem contest closed on 17 June and the winner was due to be announced on 12 August, but the selection was postponed.
Ken Livingstone was selected as Labour's mayoral candidate in September 2010, after beating off the challenge from former Bethnal Green MP Oona King.
It followed the announcement by Boris Johnson that he would be seeking re-election for the Conservatives in May 2012.