London Mela assault: E-fit issued after girl punched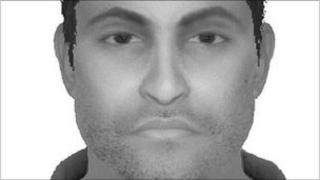 An e-fit image has been released of a man who punched a teenage girl three times in the face at a festival in west London celebrating Asian culture.
The 16-year-old was watching singer Jay Sean at the Mela in Gunnersbury Park on 4 September when her attacker approached and tried to dance with her.
She resisted and was assaulted, losing one of her front teeth in the process.
The man is stocky and has short fluffy hair, police said. He is aged about 28 to 30 and is about 5'6" (1.68m) tall.
He was wearing a black baseball cap, with a yellow underside, along with a long-sleeved grey or blue shirt and three-quarter length trousers.
"We are keen to speak to anyone who may have been recording the on-stage act, singer Jay Sean, who at the time of the assault was 10 minutes into his set," said Det Sgt Martin Siertsema of the Metropolitan Police.
"Given the close proximity of the incident to the front of the main stage, it is possible that recordings made on mobile devices may have picked up the event taking place."
The victim was treated by medics but did not need to go to hospital, police said.