Call for 20mph areas and car-free zones in London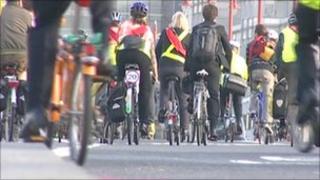 Activists campaigning for car-free areas and 20mph restrictions across central London have protested outside Transport for London's (TfL) offices.
Members of Climate Rush cycled from Blackfriars Bridge to TfL's headquarters where Lib Dem MP Simon Hughes was among those to speak.
TfL said it had invested millions of pound in improving streets for all road users, especially for cyclists.
The protest was held to mark World Carfree Day.
Andrew Tobert, from Climate Rush, said: "Imagine if cars were banned from central London?
Prioritising people
"Buses would glide through town, people would feel safe cycling and our air would be clean. Children could walk to school.
"Instead, we have inefficiency. We have time being wasted and lives being lost.
"Rather than perpetuate this, TfL need to start prioritising people."
Leon Daniels, from TfL, said: "The mayor is a passionate cyclist and his cycling revolution is a key priority.
"TfL has invested millions in improving London's streets for all road users, especially cyclists over the last decade and will continue to do so. "
He added that TfL was only responsible for 5% of the city's road network and the rest was the responsibility of the borough councils.