Police 'not at fault' over Mircea Adam pursuit death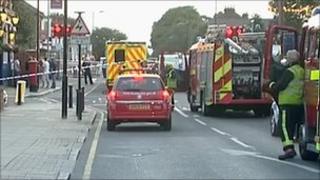 Officers involved in a pursuit during which a man was killed by a train in north London, had followed procedures, the police watchdog has ruled.
The Independent Police Complaints Commission said there was no evidence of misconduct in the incident in which Mircea Adam, 20, was killed last year.
Mr Adam was hit by a train near Enfield Lock level crossing, Enfield, on 9 August as he climbed over the barriers.
The IPCC said the officers were "qualified to initiate a pursuit".
Mr Adam was a passenger in a silver Mercedes when an acting special sergeant and two special constables on patrol in a marked police vehicle stopped the car at the junction of Bullsmoor Ride and Bullsmoor Lane.
The vehicle had come up on the police system as being registered to a woman in Manchester and "had previously been removed from the street for having no insurance", the IPCC said.
Killed instantly
The car initially pulled over and the driver got out, before getting back in the car and speeding away, resulting in the chase. At one point in the pursuit the car ran a red light.
It came to a halt at the level crossing where the barriers were down and three men in the vehicle, including Mr Adam, got out.
Mr Adam was killed instantly when he jumped over the barriers and was struck by a northbound train travelling at 80mph, the IPCC said.
IPCC commissioner Mike Franklin said: "We concluded that the acting special sergeant was qualified to initiate a pursuit and was driving a suitable vehicle to do so.
"The police were some distance behind the suspect vehicle when the men made off. Considering all of these things, we do not believe there is any evidence of misconduct on the part of the officers involved."