City of London's Monument hosts live music performance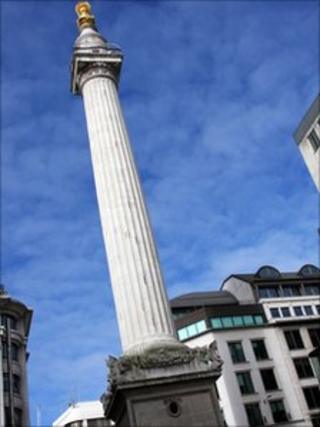 The Monument in the City of London has been transformed into a huge instrument for a live music performance.
Five musicians have played a specially composed piece standing inside the four large alcoves and at the bottom of the 202ft (61m) high stone structure.
They will play the 15-minute piece, entitled Monument and composed by Samuel Bordoli, at regular intervals throughout the weekend, 18 times.
Organisers say it will create a 3D sound for visitors who time it right.
Live Music Sculptures, which is behind the event, works to create "large, living breathing music sculptures in unique architectural spaces".
Visitors will be able to listen to the music while walking up and down the 311 steps of the spiral stone staircase.
Mr Bordoli said: "I had been looking to do something different with acoustics for quite some time and on visiting the Monument last year I realised it was the perfect place to develop my ideas.
"Working with the building's acoustical properties we will be able to create sounds and musical effects which would be impossible to achieve anywhere else."