London's West End: Call for Sunday traffic ban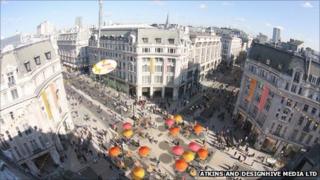 Businesses in London's West End have called for a traffic ban in Oxford Street and Regent Street every Sunday.
The New West End Company, which represents 600 retailers, said it wanted to improve the shoppers' experience by cutting congestion.
It has also launched a "manifesto" for the central London shopping area targeting the main mayoral candidates standing in the May elections.
Currently the two streets are closed to vehicles on two or three days a year.
Visitor economy
Dame Judith Mayhew Jonas, chairman of the New West End Company, said: "It would be fabulous if we could have traffic-free days, perhaps every Sunday, so people could be relaxed in the West End.
"This is a visitor economy here in the West End and we want to make it as good as an experience as possible."
The call comes after Dame Judith and London Transport Commissioner Peter Hendy visited New York last month to view a pilot of a part-pedestrianisation of Times Square.
The trial has been so successful it is going to be made permanent.
Strategic thinking
Dame Judith also said businesses wanted the mayor to look at transport and congestion in the West End and reduce the number of buses in particular.
She said: "We think it's time to think strategically about congestion in the West End, particularly in 2018 when we have got Crossrail coming in.
"With another 70 million visitors coming through this area we need to start planning for that now."
The West End Company also called for marches and protests to be kept away from the area.