London Underground drivers to vote on industrial action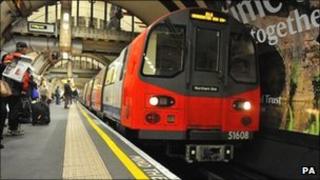 London Underground (LU) drivers are to be balloted on industrial action in a row over safety.
The Rail Maritime and Transport union (RMT) said its members would vote on action short of a strike.
The union listed a series of concerns including a new procedure for reversing a train, faults in platform camera systems and the consequences of "massive reductions" in staff.
LU said the changes were designed to reduce delays and overcrowding.
The RMT also claimed that management wanted to remove the inbuilt function which stops a train if an object is caught in the door, which it said would allow a driver to proceed after a visual check.
'Dangerous proposals'
General secretary Bob Crow said: "It is our members who have to deal with the consequences of these ill-conceived policies.
"We have tried to get LU to see sense, but they have continued to put cash and job cuts ahead of passenger safety and we now have no choice but to ballot for action to put a stop to these dangerous proposals being imposed without agreement."
LU's Howard Collins said: "These procedural changes will significantly help our response to incidents - reducing unnecessary delay and crowding, and improving customer service.
"The changes, which have already been in place for a couple of weeks and delivering real benefits, have been exhaustively consulted upon with union representatives over the last two years and do not compromise any aspect of the Underground's stringent safety procedures.
"For the RMT leadership to threaten industrial action on this issue is therefore simply astonishing."
Meanwhile, the RMT has said it will put the latest Tube pay deal to a referendum ballot of members with a recommendation to accept.
The four-year pay deal will see salaries rise by 5%.