Paul McCartney wedding reception sparks noise complaint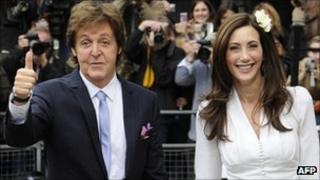 The volume had to be turned down at Sir Paul McCartney's wedding reception after a complaint from neighbours in north-west London, it has emerged.
Westminster Council said its officers dealt with a complaint about noise in St John's Wood at 01:30 BST on Monday.
"The volume was reduced on request," said the council's head of noise and licensing, Andrew Ralph. "No further action is being taken."
The ex-Beatle married US heiress Nancy Shevell at Marylebone Old Town Hall.
The 51-year-old from New York became Sir Paul's third wife.
The star's first marriage was to Linda McCartney, who died in 1998, and he split from second wife Heather Mills in an acrimonious divorce in 2008.
Among those attending the party on Sunday night were Rolling Stones guitarist Ronnie Wood, model Twiggy and artist Sam Taylor-Wood.