Victoria Tube station: Staff told not to help blind people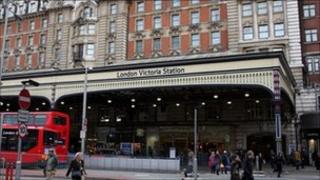 Victoria Tube station staff have been told they cannot help visually-impaired people (VIPs) to platforms at peak times during the station's renovation.
A leaked document advised the London workers not to provide assistance when a one-way escalator was in operation.
The Rail, Maritime and Transport union said it sent out the wrong message in the run-up to the Paralympic Games.
However, London Underground (LU) said VIPs were given travel advice and could be offered alternative transport.
Work to refurbish the 42-year-old escalators in the main ticket hall began in January as part of a £700m redevelopment to cope with an increasing number of passengers.
During the evening rush hour the two escalators in operation are in the up position to clear the platforms as quickly and safely as possible.
Avoiding crowds
The memo, to a duty station manager, said staff would be unable to assist any VIPs at Victoria between 15:30-19:30, Monday to Friday, because of the escalator system.
During these times VIPs are advised to travel to nearby stations, such as Pimlico or St James' Park, or other transport arrangements are made for them.
Wayne Trevor, from LU, said when work on the escalators began all passengers were asked to use alternative stations if possible.
"We also asked our staff to help visually-impaired passengers by advising them to travel to nearby stations... where we have been organising alternative transport to get them to Victoria," he added.
He said this meant that VIPs avoided crowded conditions and the move had been welcomed by many passengers.
However the Royal London Society for Blind People (RLSB) said this would contravene equality law.
Sue Sharp, director of services and public affairs at the RLSB, said: "Failure to honour their obligations (to blind and partially-sighted people) as they carry out repairs and refurbishments would be both illegal and a serious dereliction of their duty."
LU denied this and said: "If a disabled person arrived at Victoria Tube station our staff have always helped them and will continue to do so."
'Long waits'
Meanwhile the RMT has argued if they had enough staff they could assist VIPs regardless of the refurbishments.
RMT general secretary Bob Crow said: "In the countdown to the Paralympics what sort of message are Boris Johnson and his transport officials sending out to the world when the visually-impaired are effectively banned from London's biggest tube hub because he refused to listen to RMT warnings about the impact of staffing cuts?"
Gina Newton, from Action for the Blind, described the advice as shocking.
She said: "They are supposed to be able to assist you so you can have the same journey as everybody else.
"Due to these [job] cuts I've had friends... where they've been waiting for up to 20 minutes to be assisted down to the platform."
The one-way escalator system, which came into operation in January, is due to finish at the end of the month.