Trauma centres: London patients 'getting better treatment'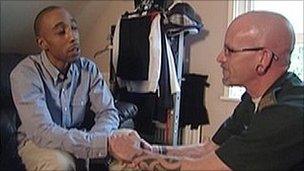 A major change is under way in London's hospitals, and Robert Williamson is at the heart of it.
It is not because he is a doctor, and not because he is a health service manager.
It is because when he was seriously injured in a crash he benefited from new approach to treating the capital's critically ill patients.
A year ago, he was on his way to work when he came off his moped in Streatham Hill.
He was catapulted into the path of a lorry that ran over him, crushing his pelvis and causing serious internal injuries.
Within an hour, Mr Williamson was being cared for at one of the city's four major-trauma centres, which have been set up to deal with the most severely injured and offer 24-hour consultant-led care.
They feature teams of specialists working from four hospitals - St Mary's in Paddington, St George's in Tooting, King's College in Denmark Hill and the Royal London in Whitechapel - in a network set up 18 months ago.
The lives of 58 people, who would probably have died before the units were established, have been saved under the regime, a report has said.
The system works by ferrying the ill to these major centres, often passing the nearest, non-specialised hospital en-route.
In the last year about 4,000 patients have been treated in this way.
Despite his injuries, and more than three months flat on his back, Mr Williamson is now walking again.
"I'd say I'm a very blessed boy," he said.
"I was very fortunate but I put it down to many things - family support, frame of mind and obviously the medical help that you get.
"If I wasn't able to get access to the major trauma unit so quickly, I doubt if I'd actually be here."
First on the scene of his accident were paramedics Neil Blackwell and his colleague Graham Clark, who have met Mr Williamson for the first time since treating him.
Mr Blackwell said he was "absolutely blown away" to see Mr Williamson on his feet.
"It's just a really good testament to the whole survival chain," he said
Initially, Mr Williamson's injuries appeared to suggest he would not survive the crash, Mr Blackwell said.
"Now he's up and walking again," he continued. "I think it's incredible."
The major trauma set-up is based on the theory that having specialists on hand 24 hours a day and treating many patients in a week, will lead to better care.
Martin Bircher, one of the surgeons at St George's who operated on Mr Williamson, said it could be difficult "for any doctor to deal with something they only see once or twice a year, perhaps".
"But if it's happening maybe once or twice a day, it's much more comfortable for doctors and also for the whole team," he said.
"You develop strategies and protocols for managing patients and this is why the standard of care has been elevated."
The early success of the major trauma units mirrors that of the eight specialist hyper-acute stroke units also set up across London.
Health Secretary Andrew Lansley has said such results "provide a model for how NHS staff can work together across the country to transform our emergency services and in doing so save more lives".
"It is evidence-based, clinically-led and outcomes-focused," he said.
"It is exactly how the NHS needs to modernise."