Family of dead deportee Jimmy Mubenga seek 'justice'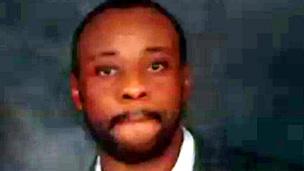 The widow of an Angolan man who died at Heathrow Airport as he was being deported has urged justice to be done quickly, a year after his death.
Jimmy Mubenga, 46, fell ill and collapsed on a British Airways plane bound for Angola on 12 October 2010.
Adrienne Makenda Kambana and their 17-month-old daughter Blessing held a vigil outside the offices of the Crown Prosecution Service at Southwark.
Mrs Kambana said: "Justice would reduce the pain."
Mr Mubenga was taken to nearby Hillingdon Hospital after he collapsed on the plane but was pronounced dead shortly after arriving. Post-mortem tests have so far proved inconclusive.
Three security guards, aged 35, 48 and 49, were arrested in October and released on police bail until December while inquiries continue.
Addressing a gathering of friends and campaigners from Medical Justice UK, Institute of Race Relations and No One Is Illegal, she said the family wanted "closure".
She said: "I would be happy if they made their decision quickly because I am tired of waiting.
"Justice would reduce the pain and if that happens quickly it would be better.
"I don't want the children to be involved in this case because they are too young. I want to finish it by myself before they are grown up."
Mrs Kambana and Mr Mubenga had five children together.
Emma Ginn, charity co-ordinator for detainee rights group Medical Justice UK, said: "We want the government to end the use of force in detention, at least until a proper investigation has been done."