Ringleaders of £3m online 'Trojan' bank scam jailed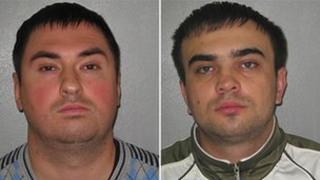 The ringleaders of a gang which siphoned £3m from bank accounts by "infecting" computers have been jailed.
Yuriy Konovalenko, 29, and Yevhen Kulibaba, 33, both of Chingford, east London, were each jailed for four-and-a-half years at Croydon Crown Court.
Both men pleaded guilty to conspiracy to defraud in July. But the pair, of Nevada Heights, Chingford Mount Road, denied money laundering charges.
The gang used a "Trojan" software to capture confidential bank account data.
The software program captured information, such as usernames, passwords and account numbers of unsuspecting members of the public.
Funds taken from private accounts were then transferred to a large number of receiving accounts controlled by the group.
Between September 2009 and March 2010 at least £2.8m was taken. They attempted to remove about £4.3m, a Metropolitan Police spokesman said.
Kulibaba, who was mostly based in Ukraine, was "the principal within this group of conspirators" while Konovalenko was his "right hand man in the UK", the Met said.
The money laundering charges were ordered to lie on file.
Eleven other people have been convicted and jailed over the online fraud.