Jayden Wray death: 'Baby was shaken'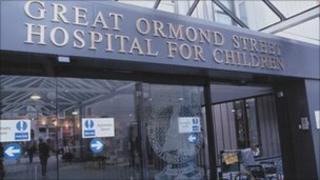 A four-month-old boy from north London suffered fatal brain damage from being shaken, a pathologist has said.
Jayden Wray suffered a combination of complications which could not have happened accidentally or naturally, Dr Nathaniel Carey told the Old Bailey.
His skull and arms and leg were broken and he had brain damage, the court heard.
The boy's parents, Chana Al-Alas, 19, and Rohan Wray, 22, from Islington, deny murdering him in July 2009.
They also deny a count of causing or allowing his death.
Dr Carey said Jayden had bleeding in the brain and eyes, and severe brain damage caused by lack of oxygen.
"In my opinion that combination of findings, together with evidence of impact, provided something to support the cause of death," he added.
'Catastrophic collapse'
Sally O'Neill QC, who is defending Mr Wray, suggested to Dr Carey that if Jayden had been shaken badly, it would have caused an "immediate and catastrophic collapse of this child".
Dr Carey denied this, however.
Michael Turner QC, defending Miss Al-Alas, accused Dr Carey of choosing which experts he preferred when writing his report on the death.
Again the pathologist denied this.
The court has heard how Jayden was born a normal baby when his mother was aged 16 and his father 19.
A post-mortem examination found bruising under his scalp, as well as the bleeding in his brain and eyes.
His skull fracture was thought to have happened between one and two weeks before his death at Great Ormond Street Hospital.
The trial continues.