Thousands parade for City of London Lord Mayor's Show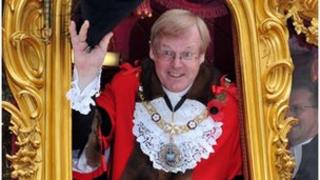 More than 6,000 people have paraded on the streets of central London as part of the Lord Mayor's Show.
Hundreds of thousands of people lined the streets in the Square Mile to watch the floats pass by.
The three-mile route of the 800-year-old spectacle stretches from Mansion House via Bank, St Paul's and Fleet Street and ends up at the Royal Courts.
The new Lord Mayor, Alderman David Wootton, began serving as the 684th Lord Mayor of London from Friday.
The procession included more than 1,200 children, 385 volunteer workers, several dozen disabled people and nearly 500 animals. Barts Hospital, the British Legion and 43 charities have provided floats.
The show culminated with the new Lord Mayor's fireworks display over the River Thames.
Alternative event
Minor alterations were made to the route because of the ongoing anti-capitalist Occupy London Stock Exchange (OLSX) protest outside St Paul's Cathedral.
The new Lord Mayor was blessed in a different area of the central London cathedral's grounds away from the OLSX protesters.
An alternative event, billed as the Festival for the People, was organised by OLSX protesters with speakers including Professor David Harvey of City University New York and John McDonnell MP.
As part of the event, the Rt Rev Michael Colclough, canon in residence at St Paul's Cathedral, joined the protesters in prayer after blessing new Lord Mayor Alderman David Wootton.