Commuters hit by suspended services on Central Line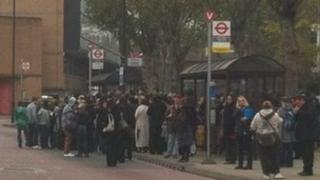 Passengers faced severe disruptions after London Underground service on the Central Line was partially-suspended for more than six hours.
The problem began at about 08:15 GMT after services were suspended between Marble Arch and White City.
Services ran with severe delays on the rest of the line but normal service resumed late in the evening.
Transport for London said a defect on the "live" rail in the Shepherd's Bush area was the cause of the disruption.
Earlier Nigel Holness, London Underground's network services director, said: "Engineering staff were on site immediately and are working flat out to repair the rail.
"There are no stalled trains, but there are severe delays to the rest of the line."
The Central Line runs between West Ruislip in north-west London and Epping in Essex.