Brian Dodgeon sentenced over Isobel Jones-Reilly drug death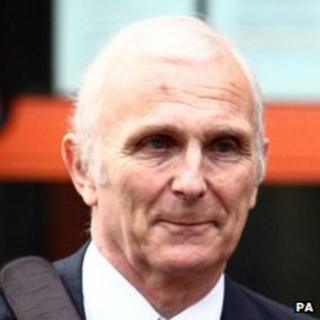 A university researcher has been spared jail after the death of a teenage girl who took drugs at a party at his home.
Isobel Jones-Reilly, 15, took ecstasy she found hidden in Brian Dodgeon's home in Barlby Road, north Kensington, west London, in April.
Isobel, a friend of the 61-year-old's teenage daughter, died in hospital.
Dodgeon, who admitted four charges of possessing drugs including ecstasy, LSD and ketamine, received an eight-month sentence, suspended for two years.
Isleworth Crown Court heard a week after Isobel's death he leapt from a flyover in a suicide attempt.
He required brain surgery after fracturing his skull and breaking several bones including a femur, an elbow and a heel.
Dodgeon, who had hidden the stash of drugs in a wardrobe in his bedroom, described himself as an "old hippy" in a police interview.
He said he thought the teenagers would never find the drugs.
Judge Andrew McDowall told him: "The worst punishment you can have is one that will last for the rest of your conscious life - the knowledge that because of the possession of these drugs, and your failure to keep them secure from teenage experimentation, has resulted in a death.
"You know that and it is obviously a burden on you."
He continued: "The failures of communication between parents and teenage children are very often the subject of humour.
"But the failures of knowledge and communication sometimes have terrible results, as happened here."
Isobel, a pupil at Chiswick Community School in west London, took two ecstasy tablets.
She fell ill but would not let friends call 999 for fear of getting into trouble.
Her friends tried to resuscitate her and called for an ambulance when Isobel stopped breathing.
She was pronounced dead at 06:30 BST at St Mary's Hospital in Paddington on 23 April.
Sarah Elliott, mitigating, said Dodgeon was a "broken man".
He has been suspended from his job at the University of London's Institute of Education and faces further disciplinary action, the court heard.
The judge imposed a six-month curfew order, requiring Dodgeon to be at home between 21:00 and 07:00.
He was ordered to pay £150 costs.