St Paul's protest: 'Defecation and drugs' at Occupy camp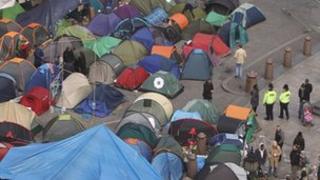 Legal documents have listed "defecation and drugs" among problems at a protest camp outside St Paul's Cathedral, it has been revealed.
Documents filed by City of London Corporation as part of an attempt to evict protesters said half of school parties had cancelled trips.
Local business takings had fallen by up to 35%, the documents claimed.
The protesters' legal team denied the claims and said many of the accusations were without basis.
Occupy London said civic authorities "have not engaged in a transparent dialogue" with activists.
Last week the City of London Corporation resumed legal action against the camp, which has been outside the cathedral for a month, after talks failed.
Within the documents a statement given by John Zuber, a City of London police inspector who visited the camp, said urination and defecation were "major issues".
'Hardened drinkers'
Police received complaints from the cathedral about "members of the camp continually urinating through the fence of the Chapter House and the Cathedral itself", Mr Zuber said.
On one occasion "a member of the camp had urinated through the window of the Crypt Restaurant".
Meanwhile, he said a member of the camp had been arrested after being found in possession of Class B drugs and what "is currently believed to be a liquid Class A drug".
Mr Zuber also said there had been complaints about drinking.
"There appeared to be a group of 10-15 hardened drinkers within the camp who would drink into the night, abuse members of the public and create a noise nuisance."
Arrests linked to the camp had included those for "possession of a bladed article, failing to register a new address under the Sexual Offences Act, theft, assault (on) police, breach of bail, breach of the peace, (being) drunk and disorderly and possession of drugs", his statement added.
John Cooper, barrister for the Occupy London Stock Exchange (OLSX) activists, said: "Many of the accusations are without basis on our instructions and we look forward to making that clear at the appropriate time."
'No intention'
A City of London Corporation notice distributed to OLSX protesters last Thursday ordered the "public highway" to be cleared.
Tents pitched on land belonging to the cathedral are exempt from the evictions.
An OLSX protester said there was "no intention to leave" and many notices had been ripped off the tents.
Protester Ronan McNern said the group would discuss the "rationale and contents of the notice".
The Occupy movement said its protest aimed to highlight the issues of inequality and corporate greed.
On Friday, protesters extended their action by taking over an empty office block in Hackney, east London, belonging to the bank UBS.
A UBS spokeswoman said: "We are aware of the situation and taking appropriate action."