Met Police considering Tasers in all police cars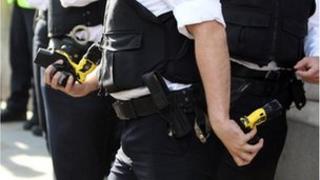 Stun guns could be kept in all police cars under plans considered by Scotland Yard chiefs to combat violent crime.
Metropolitan Police (Met) Commissioner Bernard Hogan-Howe called for police response officers to be routinely armed with Taser weapons.
Scotland Yard confirmed a review of the weapon's availability had been launched.
But Lib Dem London Assembly member Dee Doocey said its wider use could cause "irreparable" damage.
Speaking on London's Biggest Conversation (LBC) radio station, Mr Hogan-Howe said that "in short" he would sanction greater use of Tasers.
The police chief told a firearms officer who called in to the show: "If we accept that legally Taser is available and the Home Office has made it available, what we need to make sure is that it's available when it's needed."
'Vehicle-borne'
He added: "Having it with people such as yourself, a specialist in firearms, is good, because it gives you an alternative to using a gun sometimes, although we have to be careful with that as you know."
Mr Hogan-Howe said Tasers "ought to be a vehicle-borne option".
"One of the options is every police car, another one might be one of our response cars," he said.
"I think to have more availability than we have now is essential."
Ms Doocey said: "To move from a relatively small number of highly-trained police officers being armed with a Taser, to a situation where 6,500 police cars in London routinely carry them on everyday patrols would do irreparable damage to the reputation of our unarmed police service."
Scotland Yard confirmed that work was ongoing to review the current availability of Tasers, to "ensure the best possible protection for staff and the public".
The Met confirmed Tasers had been used on 110 people in London in 2010-11, but could not provide figures showing how this compared with previous years.