Obedient Wives' Club faces criticism in UK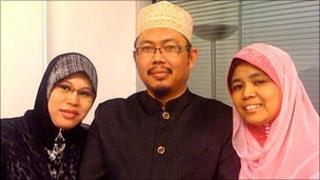 "In Islam, if the husband wants sex and the wife is not in the mood, she has to give in to him. If not, the angels will curse her. This is not good for the family."
So says the Obedient Wives' Club (OWC) which has brought its controversial theories to the UK after launching in Malaysia earlier this year.
It already has branches in Australia, Jordan, Kazakhstan, Singapore and Indonesia.
The OWC claims it can curb things like prostitution and gambling by showing Muslim wives how to be submissive and keep their husbands happy in the bedroom but it has been accused of being "misguided" and guilty of portraying women as subservient.
Accused of sexism
The group claims to have about 3,000 members in Malaysia, with around 800 involved in polygamous relationships.
A group called Global Ikhwan launched the club, which also goes by the name the Global Polygamy Club.
Its Malaysian outfit prompted a series of objections.
Facebook groups, such as 'Say No To The OWC - Asian Coalition', describe the group's teachings as sexist and nonsensical.
Speaking at a Malaysian restaurant in Greenwich, south-east London, which is acting as a base for the group, OWC's co-founder Mohamad Ali said the organisation's role was to advise on things like "how husbands and wives should behave" in a multiple-partner marriage.
Islamic Circles, a community group that arranges marriage events and Muslim events, invited the founders of the club, Mr Ali and two of his three wives, to London to debate the group's validity.
Organiser Mizan Raja defended hosting the group, saying that even though he was not endorsing their views, they did make some valid statements about relationships.
"The word obedient is insulting for some but we live in a metrosexual world, there are many out there who feel that men should reclaim their manhood," said Mr Raja.
"The feminist movement, I believe as well, has emasculated not just Muslim men, men in general."
At the event the three were asked if western women could benefit from the group's approach.
Mr Ali said: "It cannot be equal whatever you do. Allah has made rules and regulations that there should be a leader.
'First-class prostitutes'
"In this situation the husband is the leader, the wife and children are followers."
He said equality could not work but was aware that this was unlikely to go down well with many British women.
Mohamad's first wife Satira Mohd Yusof explained why the group said they expected women to act like "first-class prostitutes".
She admitted it was partly to shock people into listening but there was a point behind it.
"The woman is supposed to treat the husband the way the Prophet's [Muhammad] wives did, but we are way after the Prophet so we can't picture [how that is]," she said.
"When we say 'first-class prostitute' we have an idea, it's a comparison."
She stressed however that they were not endorsing husbands forcing themselves on their wives.
"A good, pious husband will not force his wife into bed, or into sexual relationships. There is always discussion and give and take.
"But the rewards are given for the wife to be obedient."
The emergence of the group in the UK has attracted criticism from some prominent British Muslims.
Catherine Heseltine of the Muslim Public Affairs Committee (MPAC UK) said the group was portraying Muslim wives as subservient.
"For me that's just not the position of women in Islam," she said.
'Totally misguided'
"If you look at the females that surrounded the Prophet Muhammad they were strong women who actually advised him."
Anjum Anwar MBE, 54, is the only Muslim employed by the Church of England. She works as chair of Woman's Voice at Blackburn Cathedral and is highly sceptical about the group.
"The Obedient Wives' Club is not needed in the UK and these women and no doubt men behind the scene are totally misguided, not only about their perceived faith, but certainly about the needs of women," she said.
"As a Muslim woman I have total control over my body, and it would take a lot more than just being good in bed to reduce domestic violence and prostitution and other vices.
"What I want to know is who is making money out of this project?"
The OWC said it did not charge anyone to be a member but was happy to offer advice to anyone considering polygamy.