Levi Roots wins Reggae Reggae sauce legal fight with cafe owner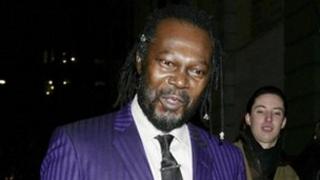 A Brixton cafe owner has lost his High Court fight to be recognised as the creator of the recipe for a sauce made famous by a Dragons' Den contestant.
Anthony Bailey claimed Levi Roots, the singer who made Reggae Reggae Jerk/BBQ Sauce a success, had derived the sauce from his "unique and secret recipe".
However, Judge Mark Pelling QC dismissed Mr Bailey's claims for breach of contract and breach of confidence.
The judge questioned whether the recipe was "ever secret".
He told the court: "This was a dishonest claim, dishonestly advanced."
Mr Bailey, who moved to England from Jamaica and runs the Blessed West Indian Takeaway in Brixton, south London, made the claim alongside financial adviser Sylvester Williams.
'Cynical and dishonest'
Mr Bailey told the court that he had "devised his own jerk sauce" and recorded his recipe in the West Indies more than 25 years ago.
Mr Roots, 53, who also lives in Brixton and was born in Jamaica, contested the claims, which he said were a "cynical and dishonest attempt to take advantage of his ingenuity and hard work".
He said he "started experimenting" with sauce recipes in 2005 and invented the "Reggae Reggae" title either later that year or in early 2006.
Lawyers said they estimated the legal battle had cost more than £1m in total and the judge said Mr Roots was entitled to have his costs paid.
Although the judge ruled in Mr Roots's favour, he told the court he had concluded he "could not safely rely" on either the evidence of claimants or that of Mr Roots.