Downhills Primary School opposes academy plans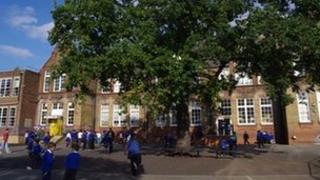 A primary school is fighting plans to turn it into an academy.
Following a poor Ofsted report, Downhills Primary in Tottenham, north London, faces being made an academy by 2013 in a bid to improve standards.
But the head and many parents are campaigning for Downhills to remain a community school, claiming there is no evidence to suggest that academy status can transform primary schools.
A government spokesperson has said academies are proven to work.
The proposal is the result of Education Secretary Michael Gove's announcement that the 200 worst performing schools in the country are to become sponsored academies next year.
A further 500 are set to become academies from 2012 onwards, including Downhills which was given 12 months to improve its performance by Ofsted earlier this year.
'Major distraction'
Under the academy plans, Downhills would be taken over by another institution or private organisation.
But the head teacher, Leslie Church, said any sponsor would affect the school's democratic rights, meaning elected governors and local councillors would no longer be involved in decision-making.
"I don't think there is any evidence to suggest that a sponsored academy would work for primary education," he added.
"My worry would be exclusion and admissions - would these be administered in the same way as they are at the moment?
"We are here to be fully inclusive and supportive to all our children.
"I'd really, really like government to back off and let us get on with the job of continuous school improvement... it is a major distraction for staff not to know if they are going to have continuity of employment."
A Department for Education spokesperson said academies were popular with parents and had turned round "dozens of struggling inner-city secondary schools" across London.
"They are improving results at three times the national average rate and have higher proportions rated outstanding."
The spokesperson said the department would offer sponsored academy status to those schools found to be consistently underperforming and whose results were below national standards year after year.
"Wherever possible we want to find solutions that everyone can agree on, as we've done with many schools that have become academies."