London 2012: Olympic district to be named East Village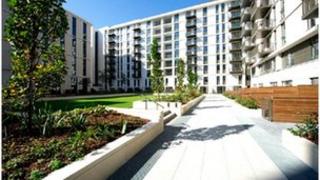 The name that will be given to the London Olympic village once the Games have ended has been announced.
The area, in the new postcode of E20, will be called East Village and be home to more than 6,000 people from 2013.
The Olympic Delivery Authority said it would be a "significant new community" creating a lasting residential legacy.
The asking prices of homes is not yet known, however, as prices will be set according to the market rate in two years' time, a spokeswoman said.
'Exciting' location
There will be 1,439 private homes mainly available to rent and 1,379 "affordable" homes for buying and renting, said developers QDD - a joint venture between Qatari Diar Real Estate Development Company and Delancey and Triathlon Homes.
A spokesman for QDD said it would be "one of the most exciting places to live in London".
The new neighbourhood, the size of St James's Park, will also include education and health care facilities, parkland, public squares and open space.
Homes will vary from one-bedroom apartments to four-bedroom townhouses.
The district will have more than 30 shops, cafes and restaurants.
Chobham Academy, which will offer places to 1,800 students aged between three and 19, will open in 2013.
The developers also said that a medical centre on site would provide more than 60 different medical services.
Elliot Lipton, director of Triathlon Homes, said: "Our vision is to deliver a neighbourhood that provides the very best quality homes and services to its residents and one which fosters a welcoming, inclusive, safe and vibrant community.
"The East Village is at the heart of the wider transformation of east London."
Qatari Diar and British developer Delancey signed a £557m deal to buy and manage East Village.
The deal included a profit-share agreement, recouping for the government some of the £9.3bn of public money the Olympics have cost.
Culture Secretary Jeremy Hunt said the deal gave taxpayers "a great return".