Boris Johnson dubs Westminster parking 'completely mad'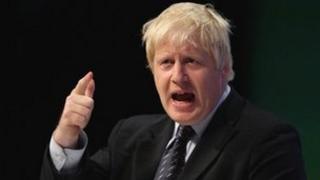 London Mayor Boris Johnson has called Westminster City Council's decision to bring in night time and weekend parking charges as "completely mad".
He said the move will be "damaging to business", and added that he was "examining legal options" as he does not control parking on council roads.
The levy, from £2.20 to £4.40 an hour, will come into effect from 9 January.
The council said the charge was not to "generate revenue" but to keep the streets "clean, safe and vibrant".
The new parking charges would operate until midnight Monday to Saturday, and 13:00 to 18:00 on Sundays.
Church groups and businesses have opposed the plan and a recent study commissioned by West Ending Campaign - West End businesses against the charge - claimed they could lose up to £800m a year and 5,100 jobs could be at risk.
Residents 'favour' charge
Mr Johnson said: "I think it is completely mad what Westminster are doing.
"It is not what the city needs right now, it will be damaging to business.
"Unfortunately I do not control those roads, TfL [Transport for London] alas only controls 5% of the roads in London.
"It is very difficult with the current constitutional arrangements in London which means effectively that a borough can do what it wants in respect of its own parking.
"But we are continuing to examine the legal options available to us."
The mayor accused the council of bringing in the charges because "they need revenue from parking".
"A substantial proportion of Westminster residents are actually in favour of this measure because they don't give a monkey's about the people (who) have to pay to park in Westminster and I think that is quite wrong because Westminster is the heart of the London economy," he added.
'Improve environment'
Councillor Colin Barrow, leader of Westminster City Council, said: "The council does not and cannot legally run its parking service to generate revenue.
"But we do want streets that are clean, safe and vibrant.
"We hope that extending the hours of parking control in part of the West End will continue to improve the environment, manage traffic and ensure parking spaces are available to visitors in the future.
"Around 80% of visitors to the West End use public transport at night, rising to over 90% in the daytime.
"We will be campaigning for further improvements in public transport including later running tube trains, rolling out more cycle hire stations and improving our public realm."