Teenager guilty of Sylvester Akapalara murder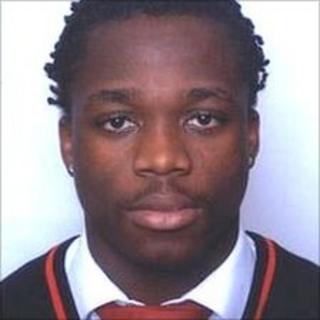 A teenage gang member is facing a life sentence for shooting dead a promising athlete.
Sylvester Akapalara, 17, was chased through a block of flats by a gang of youths brandishing a gun and knives.
He was found in a stairwell on the Pelican estate in Peckham, south-east London, in December 2010.
Sodiq Adeojo, 19, of of Shurland Gardens, Peckham, was found guilty at the Old Bailey of his murder.
He was also found guilty of two counts of attempted murder, and having a knife and a gun.
Adeojo was remanded in custody for sentencing at the Old Bailey in January.
His brother Qudus Adeojo, 18, of Shurland Gardens, Peckham, and a 16-year-old youth, were cleared by the jury of all charges.
Kenny Imafidon, 18, from Bishop Wilfred Wood Close, Peckham, was found not guilty on the directions of the judge.
Brothers aged 16 and 17 were cleared of hiding the gun used in the murder.
David Nyamupfukudza, 18, from Hunsdon Road, New Cross, south London, was ordered to be retried after the jury could not agree verdicts.
Duncan Penny, prosecuting, said Sylvester was shot in the chest and neck.
Two of his friends, who were with him, were stabbed as they tried to force their way through the main door of the block of flats, which was guarded by part of the group of youths.
Neither Sylvester, who was a member of Herne Hill athletics club, or his two friends lived on the estate.
"After a verbal exchange, the three were being hunted down by a group of other youths," Mr Penny told the court.
"That second group came ready for the task at hand. One had a handgun the others had knives."
Others "stood sentry" at the bottom of the stairwell, blocking the exit door, he said.