Police metal theft unit launches in Bexley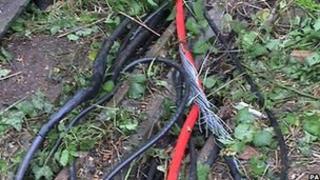 Scotland Yard is launching its first dedicated unit to tackle the growing problem of metal theft.
The crime is believed to cost the economy around £700m a year.
The Waste and Metal Theft Taskforce is based in Bexley, south-east London, one of the boroughs most severely affected because of the high number of scrap metal yards.
The police and the Government last week announced a crackdown to curb the metal theft crisis.
The taskforce includes experts from BT and the local authority's environmental crime unit; it will also advise other boroughs, particularly areas with high numbers of scrap metal yards.
British Transport Police (BTP) said it regards cable theft second only to terrorism in its list of priorities, and a newly formed cross-ministerial group has met several times to discuss the problem.
Operation Ferrous
In the first two weeks of December officers carried out 275 inspections and searches of scrap dealer yards.
Fifteen people were arrested for offences ranging from burglary to transporting waste metal illegally without a licence'
Sixteen vehicles were seized as part of Operation Ferrous.
Chief Supt David Chinchen, the Met's lead for Operation Ferrous, said: "Metal theft is not a victimless crime but is causing increasing misery to commuters and householders, and costing millions to the rail industry and local authorities.
"Our latest operation aimed to identify, disrupt and deter those involved in this illegal trade, and acted as an important intelligence-gathering exercise for future operations so that we can target those evading the law and those who supply them even more effectively.
"We are keen to work with legitimate scrap metal dealers, but those who aren't can expect to see regular enforcement."
In one suspect's back garden they found charred remains in an oil-drum suggesting evidence of cable-burning - the process used by metal thieves to extract the lucrative copper from inside.
Regular operations
Officers also found one man hauling car metal parts on to the back of his truck, for transport to a scrap metal yard, who had been claiming incapacity benefit since 2008 for a broken leg, pelvis and shoulder.
Acting Insp James Coomber, operational lead for Bexley Waste and Metal Theft Taskforce, said: "Although the majority of scrap metal dealers are legitimate, those who are not are contributing to a thriving illegal trade which we are determined to clamp down on."
Deputy Mayor of London Richard Barnes said the strides Bexley had made with the launch of the taskforce, together with the efforts under the Met-wide Operation Ferrous, delivered "a forceful message to those intent on carrying out such malicious theft and sabotage that it will not be tolerated".