Sadiq Adebiyi shooting: Jordan Burree jailed for 33 years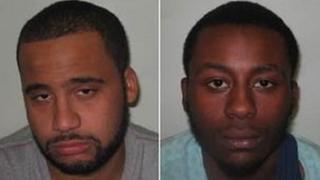 A man has been jailed for a fatal ride-by shooting in south London.
Jordan Burree, 24, of West Molesey, Surrey, was told he will serve at least 33 years for murdering Sadiq Adebiyi, 25, near Stockwell tube station in May.
Mr Adebiyi was hit by three bullets fired by Burree, who was on the back of a motorbike which then disappeared into the nearby Patmore estate.
Tadzingwa Gambiza, 20, of Wandsworth, was convicted of perverting the course of justice for riding the bike away.
Gambiza was remanded in custody for sentencing next month.
'Execution-style murder'
The Old Bailey heard CCTV footage caught Burree and another man - who has not been caught - on the motorbike riding into the estate.
Gambiza was then seen in a car by police officers a short time later, and was arrested after a short chase that resulted in him crashing into a traffic bollard.
In sentencing Burree, the court heard he had been jailed for three years in 2007 for owning a gun but was cleared of murdering 18-year-old Fabian Ricketts.
Of Mr Adebiyi's murder, Judge Timothy Pontius said: "This was an utterly cold-blooded and obviously planned execution-style murder."
He said he believed Mr Adebiyi, who lived near the scene of the shooting, had been targeted and that Burree and his accomplice were not working alone.
Police have said they do not know the motive for the attack.
Det Ch Insp Neil Hutchison said: "He appears to have been targeted as a possible member of a rival gang rather than because he was personally known to his murderers.
"This highlights the danger this kind of mindless gang conflict poses to young people in some areas.
"A number of people witnessed some of the events that night but have been unwilling to help us."