Met Police corruption: Officers allowed to resign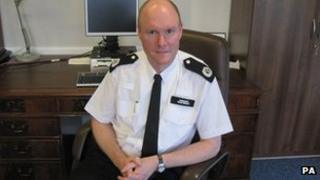 More than 130 Metropolitan Police (Met) officers were allowed to resign rather than facing misconduct panels over the last year, figures have shown.
Another 43 were sacked over the same period, the Press Association found.
The Independent Police Complaints Commission (IPCC) previously said forces failed to respond to "far too many" complaints about officers.
However, the head of Scotland Yard standards said it was actually more practical to let some people quit.
Commander Peter Spindler, who heads the force's directorate of professional standards, also said complaints about Met officers had fallen by 9% in a year.
This was the result of "a lot of hard work", he added.
'Slow' process
Mr Spindler said he hoped people understood that with more than 50,000 employees, there would be corruption in the force.
"We don't live in a perfect world," he said.
In many cases "it's actually more pragmatic to let them resign", Mr Spindler added.
In October, a PC who worked as an emergency phone operator was sacked for failing to respond to 141 "potentially dangerous" calls, while another officer indecently assaulted a "vulnerable" teenager.
Last month, two officers were dismissed for beating up three men after a car chase, and a trainee detective was sacked after sexually assaulting a vulnerable woman.
A centralised unit has been created in Earls Court, west London, to investigate staff suspected of wrongdoing.
But the disciplinary process was "slow" and officers awaiting hearings were "sitting there" at the taxpayers' expense in the meantime, said Det Ch Supt Richard Heselden, another anti-corruption detective.
"It's cheaper and quicker to get them out of the force," he said.