Fatal Croydon attack dog's owner avoids jail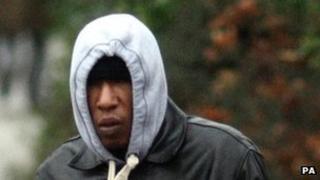 A former Army paratrooper whose dog fatally mauled a woman at her home in south London has avoided jail.
Alex Blackburn-Smith, 35, from Croydon, had pleaded guilty to failing to ensure a dog's welfare.
At a previous court hearing he was told he could face a custodial sentence over the fatal attack on Barbara Williams, 52, at her home in Wallington, Sutton.
But Croydon Magistrates' Court ordered him to carry out 150 hours of community service and to pay costs.
'Lovable' dog
The court heard the conditions the Neapolitan mastiff were kept in led in part to the victim being attacked.
Blackburn-Smith admitted keeping his dog, Debo, in a cage that was too small for the animal.
He also admitted to owning a banned pit bull terrier.
Ms Williams suffered a severe haemorrhage to her head and neck when she was attacked.
Richard Jeffries, defending, told the court Blackburn-Smith owned the dog because it was "lovable", was bought as a family pet and was the "same style of dog that you would see in the film Harry Potter".
District Judge Robert Hunter described the case as "an unusual situation", adding: "In light of that situation I cannot say that this matter has crossed the custody threshold."
The court also heard police and animal welfare officers had visited the home prior to the attack.
Stricter controls on dogs
The dog was shot dead by police marksmen after the savage attack and another dog, a pit bull puppy called Ruby, has since been put down.
Blackburn-Smith, who was in the Army for eight years and currently carries out a training programme for people hoping to join the armed forces, was ordered to complete 150 hours unpaid work and to pay costs of £3,340.
At a previous hearing he was banned from owning any animal, or having anything to do with keeping or transporting animals.
Sutton Council has called for stricter controls of so-called status dogs following the hearing, saying the government should support the Dog Control Bill, which would make it an offence to allow a dog to be dangerously out of control in a public or private place.
Kennel Club spokeswoman Caroline Kisko said the Dangerous Dogs Act needed to be overhauled and that a new dog control regime that promoted responsible dog ownership should be introduced.
Initially the police thought the dog was a Belgian mastiff however it emerged later that it was a Neapolitan mastiff.