London riots: Croydon rioter jailed for four years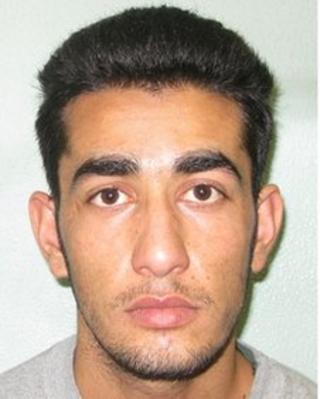 A man at the centre of the rioting and looting in south London last August has been jailed for four years.
Adam Khan Ahmadzai, 20, of Feltham, west London, denied a count of burglary but admitted nine other offences committed in West Croydon on 8 August.
The Metropolitan Police said they included throwing bricks at officers, robbing a bus driver, stealing from a Tesco and burgling a William Hill shop.
They said he had encouraged the disorder.
'String of offences'
His offences included robbery, violent disorder, burglary and criminal damage centred around the London Road area.
He was one of the first to throw missiles at police and robbed four sets of people, including a bus driver and a couple whose shop he stole from, police said.
He robbed a man at a cash machine outside Tesco before vandalising the cash machine and stealing from the supermarket, detectives added.
He was arrested on 28 September.
"The length of this sentence reflects the fact that Ahmadzai committed a string of serious offences," said Det Supt Simon Messinger.