Ali Dizaei trial: Dispute was 'over £600 web bill'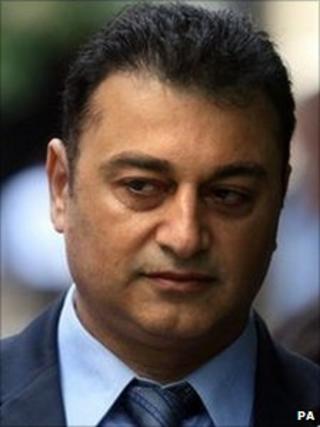 A web designer has told how a dispute with the Metropolitan Police commander, Ali Dizaei, over payment for a website, led to a confrontation in which he was wrongfully arrested.
Waad Al-Baghdadi said he reached a verbal agreement with Mr Dizaei to create a personal website for £600.
Southwark Crown Court heard the dispute came to a head in July 2008.
Mr Dizaei, 49, denies charges of misconduct in a public office and perverting the course of justice.
Mr Al-Baghdadi, an Iraqi web designer, said the work was supposed to take two weeks, but in fact lasted months.
'Felt used'
He claimed the policeman from Acton, west London, tried to negotiate down the price.
He said he was eventually told by the £90,000-a-year senior officer that he could pick up two cheques - one of them post-dated - but they never materialised.
"I felt that someone was using me. I try my best to make someone happy. I don't expect that treatment - to be promised a cheque and not get it," Mr Al-Baghdadi told the jury.
The jury has been told the dispute came to a head when the pair confronted each other at a Kensington restaurant and Mr Dizaei allegedly misused his powers to arrest Mr Al-Baghdadi, claiming wrongly that he had been assaulted.
The first charge against Mr Dizaei alleges he is responsible for misconduct in a public office by threatening Mr Al-Baghdadi and by "purporting to arrest and detain" him, knowing he did not have reasonable grounds.
The second charge alleges the father-of-three "did a series of acts which had a tendency to pervert the course of public justice" by falsely alleging in oral and written statements that he had been the victim of an unprovoked physical assault".
The trial continues.