Your Desert Island Discs: Castaway classics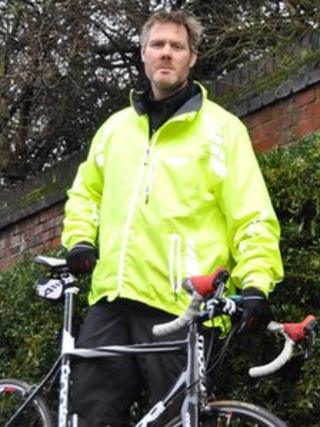 For decades the great and the good have imagined life on a secluded island with nothing but the Bible, the complete works of Shakespeare and a favourite record.
To mark the 70th anniversary of BBC Radio 4's Desert Island Discs on Sunday, the nation has also been asked to picture themselves as castaways and choose the one track they would save from the waves.
Chris Seery, who lives in the Suffolk countryside, first heard Alive by Pearl Jam when he worked in the US and played it while training for the New York Marathon.
The song has since taken on a whole new meaning for him.
In 2010 he was diagnosed with a rare form of bowel cancer and despite operations, many cycles of chemotherapy and an initially positive outlook for recovery he is terminally ill at 46.
'Take control'
Despite this, the married father-of-two, refuses to give in to fear.
"I'm not scared at all. Being scared is like jealousy in a relationship. It doesn't serve a purpose. You have to get a grip and take control.
"I'm not dying of cancer, I'm living with it."
Keeping fit has become more important to Chris as he deals with indefinite and gruelling rounds of chemotherapy and a major new challenge.
He and eight other fathers are training for a 700-mile ride to raise money for the East Anglia's Children's Hospices (EACH) and Bowel & Cancer Research.
He said: "I listen to this song a lot while training as I did when I trained to run the New York Marathon in 1994.
"This time the words have great meaning as I am determined to do everything to beat the odds and stay alive for the sake of my boys and the joy of being alive."
Whenever Lorraine Bowman, from South Norwood in south London, hears Wooly Bully by Sam the Sham and the Pharaohs, she is 12 again and newly arrived from India.
'Happy and sad'
She said: "The first time I heard this song was when I came over to London.
"My dad had arrived in 1962 and we [mum, brothers and sisters] arrived in 1965. Every time I think of us arriving in the UK, I always think of my elder brother screaming to this song on the radio."
Lorraine's journey from India took 14 days by ship and she arrived at Folkestone in Kent on 7 August, which was her father's birthday.
"On board, I remember eating pasta for the first time, which I didn't like, I wanted to be with the grown ups eating meatballs and spicy curry.
"We travelled to Tulse Hill and my sister prepared a meal for us at about two o'clock on the morning.
"The next day my father took us to some local shops and bought us sweets. I remember London being quite warm and sunny. I expected it to be cold and drizzly.
"They are lovely memories of us as a family. Sadly, mum and dad are no longer with us so it's happy and sad memories."
'Cheesy song'
During the long, hot August of 1976 Mandy Huggins, from Leeds, was 16 and newly in love.
David Dundas's Jeans On was played constantly on the radio and despite its "cheesiness" it is the song that transports Mandy back to her youth.
"My boyfriend had a motorbike and we went camping in the Lake District," she said.
"We told my parents we were staying in youth hostels as they were rather strict and would not have approved of us camping in farmers' fields!
"I remember that song was on the radio and me singing along pillion on the bike with the road stretching ahead and endless sunshine during that hot summer.
"Not long after that, punk came along and it took that innocence away. That summer is probably summed up entirely by that song for me. It transports me back."
At midday on Sunday all 40 local radio stations and Radio Scotland, Radio nan Gàidheal, Radio Wales, Radio Ulster & Radio Foyle will simultaneously broadcast their own Your Desert Island Discs featuring listeners' stories.