Union Chapel's Henry Willis organ to be restored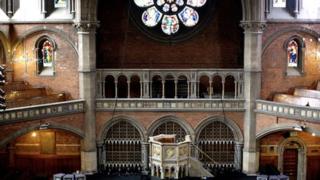 The Union Chapel in Islington has been given £470,000 by the Heritage Lottery Fund (HLF) to repair its organ.
The grant will help to restore the machinery and pipe work of the Henry Willis organ, which is Grade I listed on the National Pipe Organ Register.
It was built in 1887 and is the only organ of its type in England with its original hydraulic machinery intact.
Now in a poor state of repair, it is estimated that the organ has only two to three years of playable life left.
Adele gig
The project will also involve a three-year programme of education activities, volunteering opportunities and community outreach work.
Sue Bowers, head of HLF in London, said: "The Union Chapel Willis organ is a rare and beautiful instrument at the heart of one of the most loved community venues in North London.
"This money will mean that this precious heritage asset can be conserved and restored to full working order, so that it can once again entertain and engage audiences young, old and new."
Philip Walker, who chairs the Union Chapel Project, said he was "thrilled and slightly overwhelmed".
The Union Chapel is known for hosting gigs by acts including U2, Adele and Noel Gallagher while remaining a functioning place of worship.