Hundreds protest in Haringey over school academy plan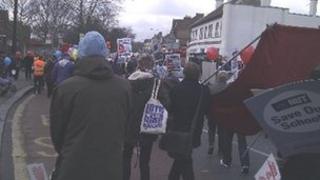 Up to 1,000 people have marched in Haringey to protest against a school being "forced" to become an academy.
Parents and supporters of Downhills Primary in Tottenham marched from the school to the civic centre to protest against the plans.
The school is part of a group of "under performing" schools which the government wants to become academies.
It said academies "were proven to work" but protesters said it was not in the best interest of the pupils.
Earlier this month, the government announced that it had asked Ofsted to bring forward an inspection of the school.
Ofsted gave the school 12 months to improve its performance late last year.
Four out of 10 of the school's students at Key Stage 2 are failing to meet the government's standards for English and maths.
'Improving results'
Haringey TUC Secretary Keith Flett, who was at the protest, said: "For a local march, it was really impressive.
"It showed a supportive message that whatever the future of education, things would be better decided locally rather than by the education secretary."
The Department of Education has previously said in a statement: "We can't just stand by and do nothing when schools are sub-standard year after year. Academies are proven to work.
"They have turned around dozens of struggling inner city secondary schools across London and are improving their results at twice the national average rate."