Ex chief warns over safety of using Tasers with CS spray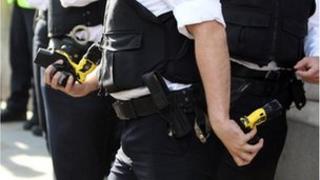 A former police chief who introduced Tasers into Britain has warned Scotland Yard to be "very careful" if plans to roll out more stun guns goes ahead.
Peter Neyroud told BBC Inside Out London there was a heightened risk of people suffering burns as the force used CS spray which was flammable.
More than half of the UK forces have shifted to pepper spray which is safe to use with the 50,000 volt Tasers.
The force's commissioner has said he wants Tasers in all police cars.
Research carried out by BBC Inside Out London found there were seven incidents last year when Tasers were used at the same time as CS spray which have been referred to the Independent Police Complaints Commission (IPCC).
In two of those cases, the suspects suffered burns.
Mr Neyroud, who was the head of the National Police Improvement Agency, said: "It's a real risk and it's not an acceptable risk.
"It's just not right that somebody gets burnt as a result of police use of force."
He added: "As they introduce Tasers more generally, they should be going back and really reconsidering all the risk and this is an obvious one. CS plus Taser equals spark plus flammable material."
'Indescribable' pain
The stun gun is the most powerful weapon a non firearm officer has available.
About 3,000 officers are currently trained to use stun guns, but this could double if plans to have every police vehicle armed with one are approved.
The Met said it used Tasers on 110 people in London in 2010-11, but could not provide figures showing how this compared with previous years.
Law student Justice Livingstone has filed a complaint against the Met after he was burnt when four police officers - who mistakenly thought he had a gun - used a Taser on him.
"The pain on the stun gun is something indescribable," he said.
"I was feeling it in my body, in my chest and my heart, you know. Shaking."
Scotland Yard said Tasers were deployed as a last resort after attempts to restrain him failed.
A Met spokesman said statistics showed that in 90% of cases, the threat of a Taser was enough to make people think twice about what they were doing.
The Association of Chief Police Officers said training guidance for officers about the potential flammability of using Tasers was available.
BBC Inside Out London's report on Tasers will be broadcast on Monday 30 January on BBC One London at 19:30 GMT and for seven days thereafter on iPlayer.